Selfie Mirror Hire
Selfie Mirror Hire or Magic Mirror is a fantastic alternative to our Traditional Photo Booth and has taken the wedding and event industry by storm.
We have recently won an award with Weddings Online for "2023 Photo Booth Supplier of the Year". 
So you are in good hands when you book with us.
Did you know that there are only a handful of high-quality Selfie Mirrors in Ireland we are happy to offer our's to you and we have also recently upgraded the well-known Selfie Mirror and created the Selfie Mirror X.
The Selfie Mirror takes Photo Booth fun to a whole new level.
The Mirror Me Booth is a unique photo-generating product offering the latest technology in interactive picture-taking. The full-length mirror offers a sleek design and a user-friendly interface, communicating with guests through a touch screen of colourful animations and entertaining voice guidance. As participants walk up to the mirror, colourful animations and voice guidance invite them to engage in a magical, interactive "selfie" experience presenting a photo keepsake.
Selfie Mirror Intro by Carolyn's Sweets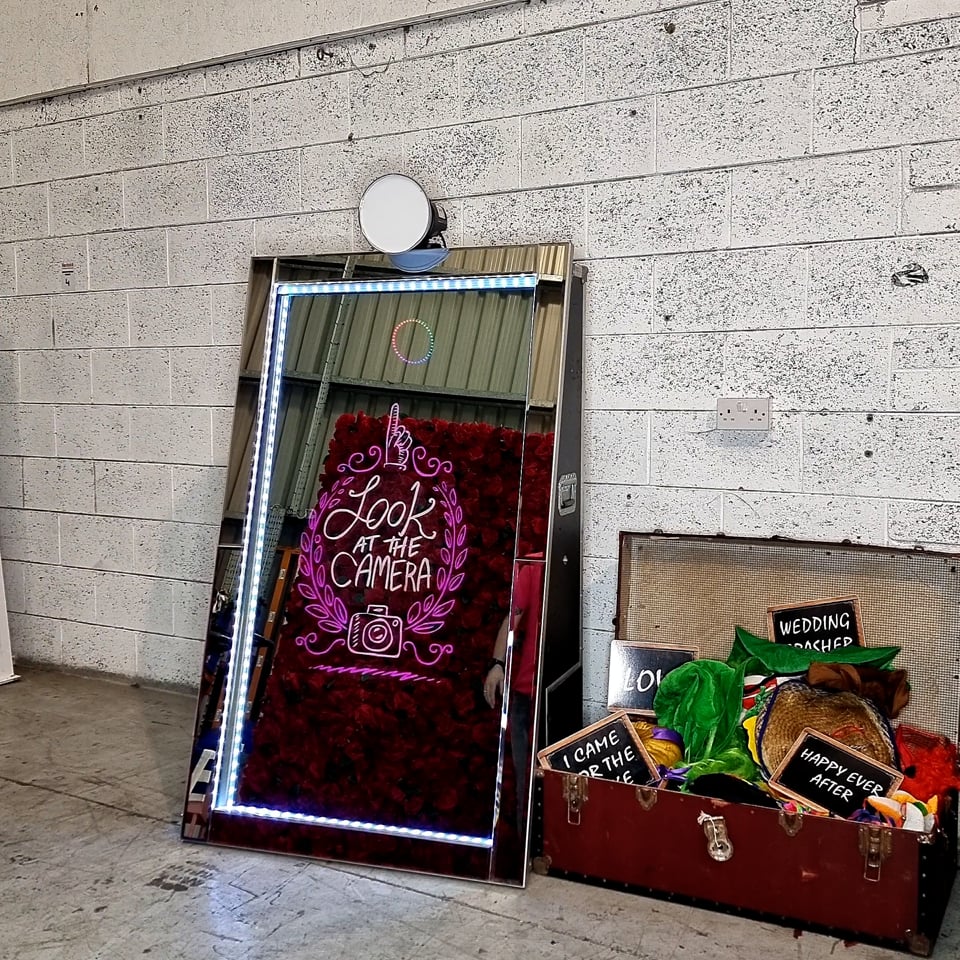 YouTube video
YouTube video
YouTube video
YouTube video
If you are looking for something different that will take your wedding, party or event to the next level you have found it here.
How does the Selfie Mirror work?
Guests approach the Mirror.
Wide range of props available at your event
Animations play to guide them to touch the screen to start the Mirror.
In between each photo, there are different animations so the Mirror experience changes every time.
When the photos have been taken your guests approach the mirror to leave a signature or message which appears on the photos.
Each Photo prints in 8 seconds and everybody gets a copy.
You can choose 1,2,3 or 4 photos per 4×6 print and we can personalise these prints with logos, names or dates. Anything is possible.
Why hire a Magic Selfie Mirror for my event?
It's a new idea that your guests will not have seen before at other weddings or events.
Mirrored Screen shows guests in real-time interacting with the booth.
Touch screen interface used to start the booth and signing photos.
All the equipment is hidden and looks amazingly stylish.
A full body photo ( show off all that wedding dress or outfit ) instead of just an upper-body shot like our traditional photo booth.
Can be set up in 10 minutes which reduces any disruption at your event.
What's the difference between a Photo Booth and a Magic Selfie Mirror?
Nothing! They are the same thing. "Magic Mirror" has been used to describe the product. However, through research, we have found that the equipment used, does the same thing. The different software that is used in the mirrors tho can be quite different. Quality and constant development are outstanding. This is what customers expect and this is what we constantly deliver.
The Mirror is growing more popular among clients. Long gone are the days when large groups are in a small space, all trying to get into the camera range and picture. That is the Magic of the Mirror!
Big open spaces can fit many people in one photo.
Why should I choose Carolyn's Sweets Selfie Mirror?
When booking your Selfie Mirror you should make sure it is the high quality "Fotomaster" Selfie Mirror and not an imitation.
The quality of images will be very poor in comparison to our Fotomaster Selfie Mirror.
The software is guaranteed not to let you down on the night with full 24/7 support you are in good hands.
Generally, Other mirrors are slimmer and not full length that does not start from the floor to show a sleek experience.
Our custom animations play to guide your guests to touch the screen and even sign it, which appears on your photo prints.
Instant personalised prints, which can include your business logo, names or anything you can imagine.
We offer a Red carpet runway to add to the look of the mirror.
Led Mirror frame that can light up in any colour you wish.
Our software allows your guests to touch the screen or even wave or smile and even scream to get the Selfie Mirror started.
Fully uniformed staff members will look after your guests at every event.
Box of props for your guests to use and make a fool of themselves
What packages are on offer for my event?
* Travel costs may apply
Have you see our Selfie Mirror X, Selfie Roamer or Vintage Tri-Pod?
Get in touch with us now for more details on our Selfie Mirror Hire.
Get in touch with us now for more details on our Selfie Mirror Hire.
Have you seen that we are featured on Irelands biggest Wedding website? Which can help you plan your special day you can visit the following link – Weddings Online
powered by NiceJob
powered by NiceJob